Featured items...
New Online Video Classes
Brenda has launched her first video class. Learn to paint the Gerbera painted in DecoArt Media Fluid acrylics. Color conversions are given for Americana paints. This video will show you all the steps to complete the project. Purchase this online class and it will be like having Brenda in your home for a private lesson. You can paint it at your own pace. The video will be set up in units so you can start and stop as you need, and more easily find your place. You will have lifetime access to videos purchased from Brenda Stewart by Design.

You will be sent a confirmation e-mail to let you know that your purchase of the video is complete and you will be notified with your login information and how to set up your password.
Join us for a Seminar in 2016
Autumn and Christmas Seminar
September 22, 23, 24, 25
Watercolor Day: September 21
Join Brenda in seminar for this charming Christmas vignette, Santa and Friends, using DecoArt Media Fluid Acrylics and stenciling techniques.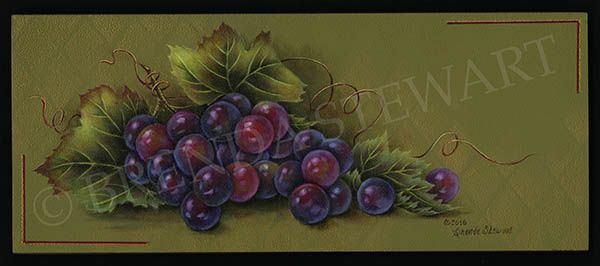 We will spend a day and half on the Santa and a day and a half on Wine Country Harvest. An optional watercolor class is scheduled on September 21.
Register soon . . . . . Seating is limited.

Complete Seminar information is availalble for download from the Seminar Page.
Colored Pencil seminar with Marian Jackson, MDA
November 18 - 20, 2016
Two projects, 1 1/2 days each.
Bev and Brenda are hosting Marian for a second colored pencil seminar this fall. The two projects for this year are Water Lily and Mortar, Pestle and Garlic. The registration is on a first come, first serve basis, so be sure and register now to insure a seat.
Download the regstration information here: Marian Jackson Seminar Registration PDF
The seminars are held at the Clarion Hotel Historic District.
New Releases
Autumn Banner
SEM-160
$14.00
This beautiful banner full of the vivid colors of fall is painted on a canvas banner with wooden top and bottom.
The Banner kit is also available and includes the top and bottom wood surfaces and a canvas banner that
measures 10 13/16" X 11" for $16.00.
Apple Blossom Time
SEM-90
$12.00
This little girl, surrounded by beautiful apple blossoms,can be painted on one of the many surfaces.
See product detail for more information.
Coming Soon
This nice companion to the Autumn Banner will be released soon.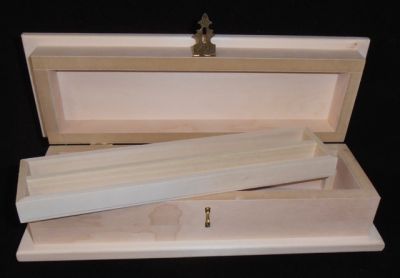 The pencil box wood surface is available for sale now. The box measures Measures 12 1/2" X 4" x 4" for $25.00.
Informative Videos
Brenda's Blog
If you wish to receive the most up-to-date news of current happenings and updates from Brenda, you will want to subscribe. Simply click on Brenda's Blog here or on the menu bar at the top of the page and follow the instructions.
Newsletter Notice
If you are not currently receiving our newsletter, you may subscribe by going to the Newsletter link here or on the menu bar at the top of the page and filling in your information. Please note: You will receive a confirmation email that you MUST reply to in order to be added to the newsletter list. It's a simple click.
If you have received newsletters and did not get our latest newsletter . . . .
We ask that you re-sign up for our newsletters. We have had to convert over to a new server and some of our addresses need to be updated. Thank you and we hope that you will continue to receive our newsletters.

If you enjoy decorative art, learning new painting techniques and reading about what other decorative artists are doing, consider joining the Society of Decorative Painters.
For more information write to: SDP, 393 McLean Blvd., Wichita, KS 67203 or visit their website decorativepainters.org